Sonia 40/50/60
40/50/60mm CLASSIC SPRING OPERATED FLYSCREEN
SONIA is a classic flyscreen, easy to install but also durable and strong. Available with three box sizes: of 60, 50 or 40 mm, thus making it suitable for small spaces. It can also be fitted with indoor blackout and shading fabrics.
MOVEMENT:
Vertical sliding;
COMMAND:
Spring operated;
TOTAL DIMENSIONS:
40 mm, 50 mm, 60 mm
NET FINISH:
Mesh with pvc strip and pins; Blackout - Shading fabric (optional);
AJUSTEMENTS:
With adjustable rail up to 14 mm per side
Box (60-50-40mm)
End cap (60-50-40mm)
Mesh with PVC strip and pins
Upper side rail
Handle bar
Shoe
Edge protector
Brush
Shoe
Pulling cord
Box
Standard production
Minimum sizes
Maximum sizes
40
On request
300 (468 with brake) x 400 mm
1600 x 1670 mm*
50
Up to H. 1999 mm
268 (458 

with brake

) x 400 mm
2000 x 2700 mm
60
From H. 2000 mm
268 (458 

with brake

) x 400 mm
2000 x 2800 mm
*The 40 mm box is recommended only in cases of real shortage of space as we can install 2 pins per side up to a height of 1569 mm; over this height we will install only one pin per side.
For widths below 600 mm for Sonia 40, 739 mm for Sonia 50 and 760mm for Sonia 60, search for the maximum possible height here.
For the size of the flyscreen with Condor blackout or Euroscreen shading fabric, please refer to the fabrics section at the end of this catalogue.
If the ordered measures exceed the maximum granted ones, some or all of the pins might be removed after carrying out the technical feasibility check so that we can manufacture the screen. In such case we cannot grant the resistance of the mesh to the wind push.
Grey accessories.
* Standard colour unless otherwise mentioned on the order form.
Blackout Condor - 005 Black
Blackout Condor - 009 Brown
Blackout Condor - 001 White
Blackout Condor - 002 Grey
Blackout Condor - 003 Beige
Shading Euroscreen - 04B White
Shading Euroscreen - 04G Grey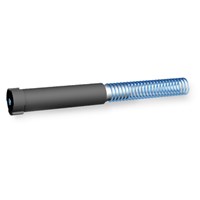 It's a special safety device, manufactured by us, that allows slow and gradual retraction of the flyscreen, preventing any dangerous impacts in case you loosen the grip of the handle bar. We always recommend this device, especially for spring operated vertical systems; the hydraulic brake is mandatory for systems over 2 metres high.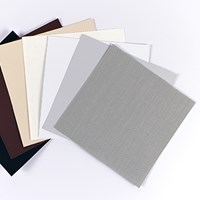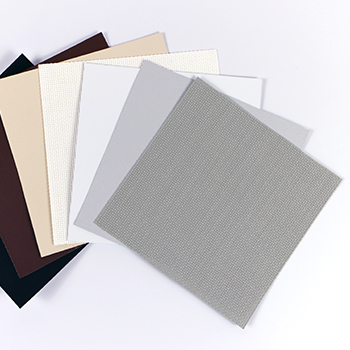 Condor Blackout Fabric.
Euroscreen Shading Fabric.
By choosing the version with blackout or shading fabric you can adjust the level of light inside the room.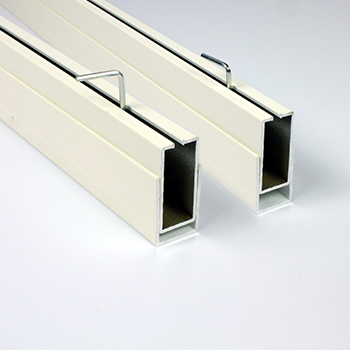 Perfect screen installation and regulation with this special double side rail that can also be used on very irregular walls.
40 mm box.
120 centimetres pulling cord.
Reversible handle bar.