Patents
Bettio has always invested in the research and development of innovative solutions and products. Proof of this philosophy are the numerous patents at the base of the success of our offer:
Anti-wind Side rail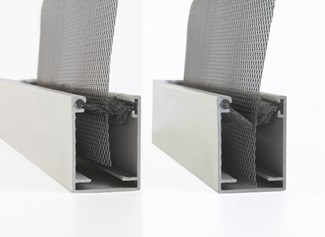 A special profile equipped with a harder and longer brush. The brush rotates at the wind push and slips into the mesh holes, preventing it from detaching.
Clic-clak®
Our revolutionary opening/closing system which ensures unprecedented ease of use. With the clic-clak® system you just have to push the bar down or lightly pull the chain. Even with one hand! It is ideal when there is little space between the flyscreen handle bar and the window frame and any opening/closing manoeuvre requiring the rotation of the handle bar would be extremely difficult. 
Scenica® Products
The unique products in the Scenica® range are rolling flyscreens equipped with a patented mechanism that allows locking the handle bar at any point of its travel, without requiring the classic ground rail or wall mounting profile. All this while keeping the mesh taut at any time.