Picoscenica®
LATERAL SLIDING FLYSCREEN 25 MM WITHOUT BARRIERS
PICOSCENICA® maintains all Scenica® range features and comes with an extra patented anti-wind side rail. All within just 25mm!
As all other models in its range, it can be easily installed even if there is no supporting surface behind the box, thanks to the adjuster end cap that is supplied as standard.
PICOSCENICA® is a reversible item: it can be installed on the right or on the left side of the opening, without having to mention it on the order form.
It can also be installed without any fasteners, thanks to the special double-sided tape supplied as standard.
MOVEMENT:
Lateral sliding; Scenica®;
NET FINISH:
Mesh without pvc strip and pins;
AJUSTEMENTS:
Height adjustment:
-3/+11mm without double-sided tape; +14mm with double-sided tape. 
Width adjustment up to +10 millimetres.
Double-sided tape (additional part)
Adjusting profile
Adjuster end cap
Anti-wind side rail (patented)
Gasket (additional part)
Mesh without PVC strip and pins
Box
Fluorescent chain rail
Box fixing plate
Ground plate (additional part)
Screw cover cap
Handle bar
Adhesive side profile (optional)
Side rail end cap
Pushing group
Adjuster
| Doors | Standard production | Minimum size | Maximum size |
| --- | --- | --- | --- |
| Single door | Up to 1380mm width | 500 x 580mm | 1380 x 2800mm |
| Double door | From 1381mm width | 1000 x 580mm | 2760 x 2800mm |
PICOSCENICA® can be manufactured if the height of each leaf exceeds by at least 8 centimetres their width.
Grey accessories. If you opt for Bronze, 9001, 9010 or 1013, some of the parts will be supplied in matching colour. The colour of the accessories in special shades is at the discretion of the Company.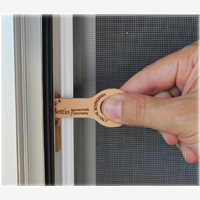 Handcrafted natural leather flexible handle, allowing removal of the handle bar when the handle is covered by the window or other obstruction.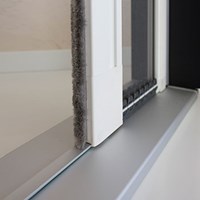 Sliding profile
Silver painted sliding profile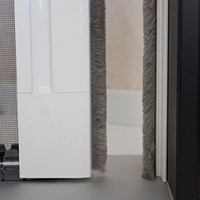 Self adhesive side profile
Suggested for out-ofsquares bigger than 7mm
Adjusting profile height adjustment allowed for installation with screw (A) or with special adhesive (B).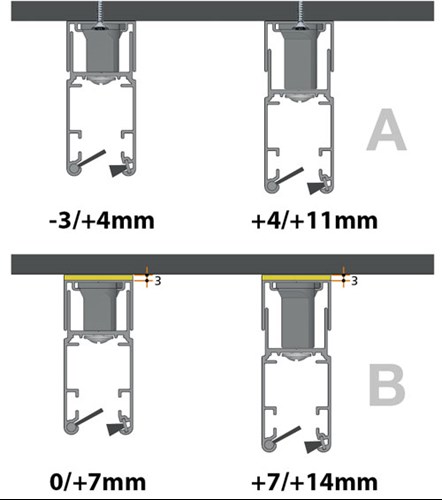 PICOSCENICA® can be installed even without screwing thanks to the special, standard provided double tape and pushing group (A). Alternatively, you can use regular screws on the upper profile (B) or, only for the single door version, with side screws on the adapter end cap and on the pushing group (C).