Rosy
SPRING OPERATED FLYSCREEN WITH CLIC-CLAK®, ADJUSTABLE END CAPS AND SIDE RAILS
ROSY is a spring operated flyscreen made of fibreglass mesh, fitted with clic-clak® opening/closing system, and international Bettio Patent that allows opening and closing the flyscreen by simply touching the handle bar. The adjustable end caps and the side rails make it a full-option, highly aesthetical product.
MOVEMENT:
Vertical sliding;
COMMAND:
Spring operated;
NET FINISH:
Mesh with pvc strip and pins;
Plate
Adjustable end cap
Adjustable side rail
Mesh with PVC strip and pins
Clic-Clak® shoe with rod
Adjusting profile with brush
Clic-Clak® shoe
Pulling cord
| Box | Minimum sizes | Maximum sizes |
| --- | --- | --- |
| 50 | 268 (458 with brake)  x 400 mm | 2000 x 2700 mm / 2500 x 1800 mm |
For widths below 739 mm, search for the maximum possible height here.
If the ordered measures exceed the maximum granted ones, some or all of the pins might be removed after carrying out the technical feasibility check so that we can manufacture the screen. In such case we cannot grant the resistance of the mesh to the wind push.
Grey accessories. If you opt for Bronze, 9001, 9010 or 1013, some of the parts will be supplied in matching colour. The colour of the accessories in special shades is at the discretion of the Company.
* Standard colour unless otherwise mentioned on the order form.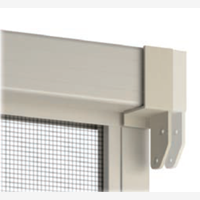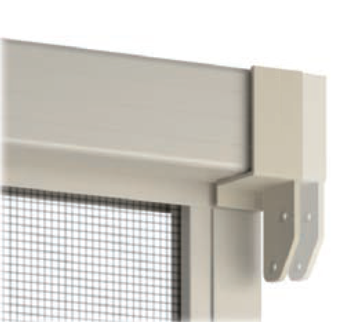 The horizontal movement of these end caps helps avoiding the out of square of many openings. This way you will obtain perfect finishing and great technical/aesthetical performances from your screen.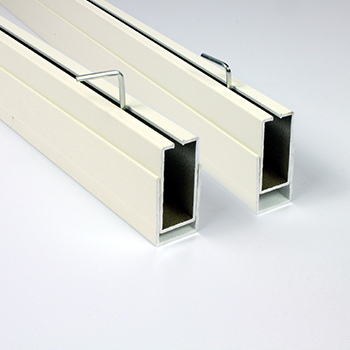 Perfect screen installation and regulation with this special double side rail that can also be used on very irregular walls.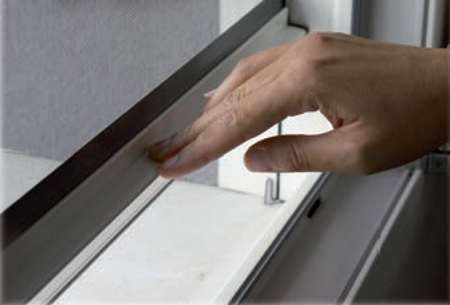 Our clic-clak® mechanism is ideal for built-in flyscreens and for systems with very little distance between handle bar and door/window frame, where any opening/closing manoeuvre requiring the rotation of the handle bar would be extremely difficult. With the clic-clak® system you just have to push the bar down. Using only one hand!
120 centimetres pulling cord.
Reversible handle bar.