Mini
SPRING OPERATED FLYSCREEN 31 MM WITH ANTI-WIND SIDE RAILS
MINI is a flyscreen made of fibreglass mesh, suitable for small spaces. Besides its small size, it is also very easy to install: in fact, its end caps are fitted with springs that hold the box during side rails insertion; therefore you just have to place the box on the upper side of the frame, without having to secure it.  The anti-wind side rails prevent mesh detachment in case of strong wind.
MOVEMENT:
Vertical sliding;
COMMAND:
Spring operated;
NET FINISH:
Mesh without pvc strip and pins;
AJUSTEMENTS:
With end caps up to +4 mm per side
Box
End cap
Spring for end cap cover
Moving end cap cover
Anti-wind side rail (patented)
Mesh without PVC strip and pins
Handle bar
Shoe
Handle
Brush
Shoe
Pulling cord
| Box | Minimum sizes | Maximum sizes |
| --- | --- | --- |
| 31 | 400 (550 with brake) x 400 mm | 1800 x 1580 mm |
For widths below 625mm and height over 1500mm, search for the maximum possible height here.
The plastic handle slides through the handle bar and you can decide where to lock it using the special grub screw.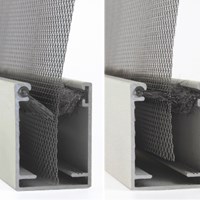 A special profile equipped with a harder and longer brush. The brush rotates at the wind push and slips into the mesh holes.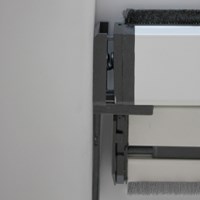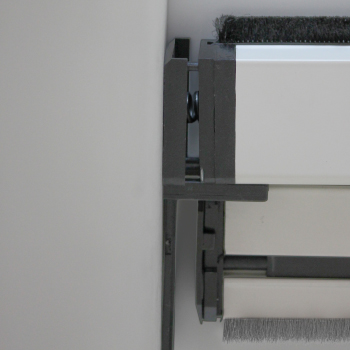 A spring between end caps and end caps covers spaces them out and keeps the box in place, facilitating the installation.
120 centimetres pulling cord.
Reversible handle bar.