Zeta
BUILT-IN SPRING OPERATED FLYSCREEN 40 MM
ZETA is a spring operated flyscreen made of fibreglass mesh without PVC strip and pins, fitted with open side rail and brushes. This product is very easy to install both before and after installing the window. Small sizes.  For installation, use the adjusting profiles already included with the product.  The bracket and the support spring make it easy to install on the construction site or directly on the window frame during manufacture. 
MOVEMENT:
Vertical sliding;
COMMAND:
Spring operated;
NET FINISH:
Mesh without pvc strip and pins;
Box
Support spring
End cap
Adjusting profile
Upper side rail
Mesh without PVC strip and pins
Handle bar
Shoe
Handle
Shoe
Brush
Pulling cord
| Box | Minimum sizes | Maximum sizes |
| --- | --- | --- |
| 40 | 500 (588 with brake) x 500 mm | 1680 x 2480 mm |
For widths below 688 mm search for the maximum possible height here.
The plastic handle slides through the handle bar and you can decide where to lock it using the special grub screw.
This accessory allows fixing the box of the flyscreen directly to the door or window frame.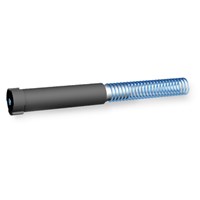 It's a special safety device, manufactured by us, that allows slow and gradual retraction of the flyscreen, preventing any dangerous impacts in case you loosen the grip of the handle bar. We always recommend this device, especially for spring operated vertical systems; the hydraulic brake is mandatory for systems over 2 metres high.