Fixed Frame
FIXED
FIXED FRAME is a flyscreen with fibreglass mesh and aluminium frame, available in various shapes: square, triangle, trapeze, circle, arch, ellipsis (technical drawing required for feasibility check). It is characterised by very small sizes and it is suitable for openings that do not require roller flyscreens. This flyscreen is also available with metallic mesh. Starting from two metres height/width the insertion of a crossbar is highly suggested.
TOTAL DIMENSIONS:
11 mm (36 with fixing angle bracket)
Magnet (optional)
"L" shaped angle bracket
Perimetric brush (optional)
Frame profile
Rod
"T" shaped angle bracket
Fixing angle bracket (optional)
Grey accessories. If you opt for Bronze, 9001, 9010 or 1013, some of the parts will be supplied in matching colour. The colour of the accessories in special shades is at the discretion of the Company.
* Standard colour unless otherwise mentioned on the order form.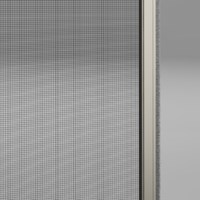 Upon request, the fixed frame can be fitted with a grey brush fixed to the perimeter with a double tape. This 7mm high brush allows you to remove any irregularities, obtaining a perfect finish. In such case, the measurements will be diminished by 6mm.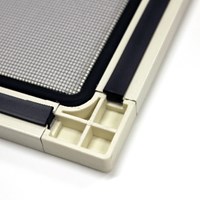 The magnet is passed through the relevant channel and allows magnetic installation on ferrous metallic surfaces (not aluminium or stainless steel).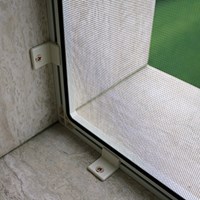 Insert the nylon angle brackets in the perimeter channel of the frame and screw them to the wall. The angle brackets are available in bags of 50 pieces each, in bronze, silver, white and ivory.
The Fixed Frame is available in special shapes such as arches, circles and ellipsis.
We need to receive technical drawings or cut-outs in order to check the possibility of manufacturing. The minimum granted diameter is 600mm because the curve for smaller sizes (in any case not less than 510mm) can cause some imperfections in the aluminium painting for which the Company shall not be held liable.
For fixed frames with irregular shapes, we will use rivets to connect the aluminium profiles if the drawings suggest that we cannot use angle brackets.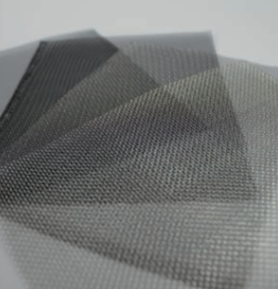 The frame screens are usually produced with PVC coated fibreglass mesh; but upon request they can be manufactured with other types of meshes. In case of special needs, you can also opt for AISI 316L stainless steel, black aluminium and silver aluminium meshes. The AISI 316 L stainless steel offers better protection against corrosion and rust, whereas the presence of these factors can be defined aggressive.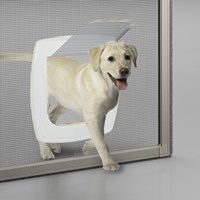 Available in white and in two versions with different values of useful room for animal passing: Swing1 145x148mm, Swing11 218x255mm. Only for aluminium and stainless steel mesh. In order to establish where to place the pet door, please specify animal's chest height from the ground on the order form (minimum 93mm for Swing1 and minimum 78mm for Swing 11)