Lisa
LATERAL SLIDING FLYSCREEN WITH ADJUSTABLE END CAPS AND SQUARED BOX
LISA is a very functional flyscreen with catch closing system, suitable for big openings, that can be opened/closed without having to bend down. Available in single or double door version: in the latter case you can lock one of the leaves up to maximum 1500 mm without having to mention it on the order form. LISA is reversible, so you can decide during assembly where to place the box (whether on the right or on the left side of the opening), without having to mention it on the order form.  LISA is fitted with adjustable end caps.
MOVEMENT:
Lateral sliding;
COMMAND:
Spring operated;
TOTAL DIMENSIONS:
54 mm (72 with external handle)
NET FINISH:
Mesh with pvc strip and pins;
AJUSTEMENTS:
With adjustable end caps: Wall-to-wall measures: -4/+13mm; Finished measures: -1/+16mm
Upper rail
Stop lock*
Bolt for handle bar*
Brush or magnet (optional)
Double door handle bar*
Shoe
Stop lock*
Ground rail
PVC side strip with anti-wind pins
Box
Plate
Adjustable end cap
* Accessories available only for double door version
| Doors | Standard production | Minimum size | Maximum size |
| --- | --- | --- | --- |
| Single door | Up to 1600mm width | 500 x 700mm | 1670 x 2800mm |
| Double door | From 1601mm width | 500 x 580mm | 3340 x 2800mm |
For the magnetic lock system version, the height of each leaf cannot be less than their width.
If the ordered measures exceed the maximum granted ones, some or all of the pins might be removed after carrying out the technical feasibility check so that we can manufacture the screen. In such case we cannot grant the resistance of the mesh to the wind push.
The side rail ensures very good mesh resistance to wind push.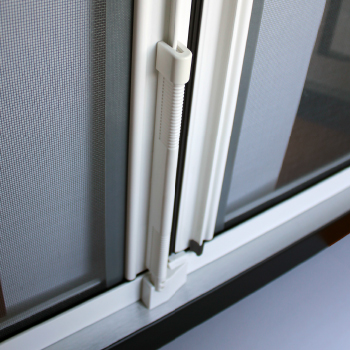 Special part for double door versions that allows you to lock one of the leaves to the desired position during installation.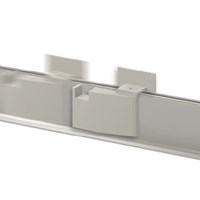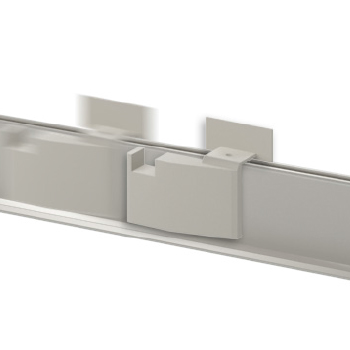 This versatile accessory allows adjusting the position of the semi-fixed leaf up to a width of 1500mm.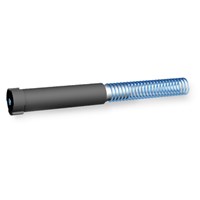 To increase the safety of our products, all Bettio lateral flyscreens feature an optional brake that allows the screen to roll aside slowly and avoid dangerous impacts if you loosen the grip of the handle bar. Accessory recommended for catch closing systems.
System consisting of two magnetic profiles that ensure perfect closing of the flyscreen.