Elena
ELENA UP-DOWN SLIDING FLYSCREEN
Elena is a multi-panel vertical sliding flyscreen, ideal for very narrow spaces. The panels slide freely inside the perimetral box and therefore all of them can be easily moved in any direction. 
The standard version is made with fibreglass mesh but you can also order it in metallic mesh.
MOVEMENT:
Vertical sliding; With panels;
TOTAL DIMENSIONS:
25 mm without handle (42 with handle)
AJUSTEMENTS:
6 mm per side with adjusting profile (optional)
Plastic angle bracket for sash
2 or 3 tracks sash profile
Up/down leaves
Adjusting profile with grub screw
Built-in handle (optional)
Adjusting profile for 2 or 3 channels sash (optional)
| OPENING TYPE | MINIMUM BASE | MAXIMUM BASE | MAXIMUM HEIGHT |
| --- | --- | --- | --- |
| Elena | 300mm | 1100mm | 1800mm |
Available colors while stocks last: 1013 gloss, 6005 matt, GRIGIO MICHELANGELO, MARRONE MICHELANGELO, VERDE MICHELANGELO, ACACIA, CILIEGIO, ROVERE.
Black accessories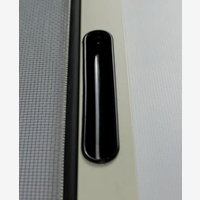 It is the ideal solution for small spaces because once inserted, it vanishes within the leaf profile. For Elena, the handle is placed on the inside of the lower leaf profile, in the middle.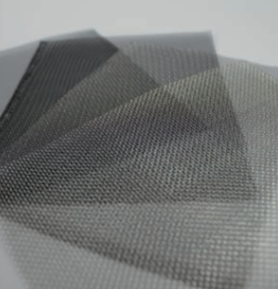 The frame screens are usually produced with PVC coated fibreglass mesh; but upon request they can be manufactured with other types of meshes. In case of special needs, you can also opt for AISI 316L stainless steel, black aluminium and silver aluminium meshes. The AISI 316 L stainless steel offers better protection against corrosion and rust, whereas the presence of these factors can be defined aggressive.
Elena can be equipped with a special adjusting profile that rectifies any out-of-squares by means of plastic adjusters with grub screws. This type of lateral adjustment can be applied on all four sides or only on three sides of the opening.